Play Video Poker Games in the USA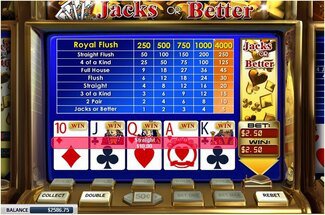 Video Poker games have a number of variants available in casinos in the USA. Three of the most popular games are Jacks or Better, Deuces Wild, and Joker's Wild. People interested in playing online poker should also note the enormous amount of bonus deals they have at their disposal. With the main benefit of not having to pay in order to play, claiming a code or a bonus has never been easier. Our top pick for the best no deposit deals for you to try out is Amsterdam-Poker.com.
In Deuces Wild, the deuces are wild cards which can substitute any card suit or rank. It is easy to form big hands that is why pay scales are lower compared to other variants. Following are the hands arranged from highest to lowest:
Royal Flush without wild card/s
Four Deuces
Royal Flush including wild card/s
5 of a Kind
Straight Flush
4 of a Kind
Full House
Flush
Straight
3 of a Kind
In playing Deuces Wild, here are some basic strategies to keep in mind. If you already hold Four Deuces, better hold on to them since there is minimal chance of getting a better hand. If the best you have are high cards (at least a 10) with the same suit, hold on to them and draw the rest. If you have worse cards better draw 5 new cards instead.
The most popular among Video Poker games is Jacks or Better. A player needs to have at least two Jacks to be paid. Payout is based on the highest ranking hand value. Below are hand rankings arranged from highest to lowest based on the usual payouts for this variant:
Royal Flush
Straight Flush
4 of a Kind
Full House
Flush
Straight
3 of a Kind
Two Pair
Pair of Jacks or Better
The best game strategy here is to aim to get paid frequently while minimizing your risks on the huge scores.
Joker's Wild is another well-known option among Video Poker games. It uses the standard 52 cards plus a joker which could substitute for any rank or suit. Hand rankings are as follows:
Royal Flush without a joker
5 of a Kind
Royal Flush with joker
Straight Flush
4 of a Kind
Full House
Flush
Straight
3 of a Kind
Two Pair
One Pair of Kings or better
In this variant, same basic strategy as Jacks or Better will apply but here, the Joker plays a very important role.